Fiberglass Grating
Fiberglass Grating combines strength with unmatched corrosion resistance. Fiberglass gratings are offered in two distinct product lines, molded or pultruded. Popular applications for fiberglass grating include:
Chemical Processing
Refining
Offshore
Pulp & Paper
Food & Beverage
Water / Wastewater Treatment
Electronics
Plating
MOLDED FIBERGLASS GRATING (click here to view product details)
PULTRUDED FIBERGLASS GRATING (click here to view product details)

Molded Fiberglass Grating
Manufactured by weaving alternating paths of fiberglass rovings through a resin-flooded mold, molded gratings offer maximum corrosion resistance and bi-directional strength. Lightweight and easily fabricated with common hand tools, installed molded gratings are essentially maintenance-free.

Resins
Iso-FR - Economical fire resistant isophthalic resin meets the corrosion resistance requirements found in light industrial and water/wastewater applications. Flame spread rating is 25 or less.
Standard colors: Green, Dark Gray, Light Gray, Yellow
VEFR – Premium fire retardant vinyl ester resin provides reliable performance in the toughest environments. Excellent performance in caustic and acidic environments with a flame spread rating of 15 or less.
FGFR - Food grade isophthalic resin meets the unique requirements of the food and beverage industry. Flame spread rating is 20 or less.
Standard color: Light gray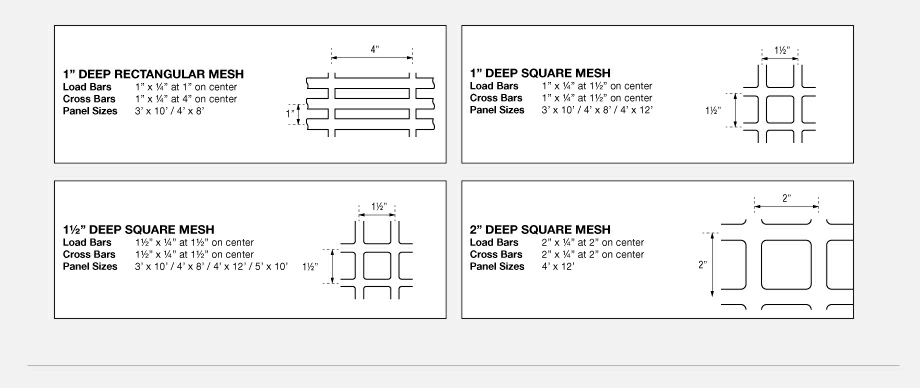 Pultruded Fiberglass Grating
Manufactured by drawing glass rovings through a resin bath and heated dies, pultruded shapes are assembled into a grid using a mechanical and chemical lock. The resulting product has superior strength and reliable corrosion resistance. Popular load bars are "I" or "T" shaped with a standard slip-resistant grit walking surface.
Resins
Iso-FR – Isophthalic polyester resin with a flame spread rating of 25 or less. Designed for applications where there is moderate exposure to corrosive elements.
Standard colors: Yellow or Dark Gray
VE-FR – Vinyl ester resin with a flame spread rating of 25 or less. Dependable resistance to both acidic and alkaline environments.
Standard colors: Yellow or Dark Gray